WELCOME TO SMR
NEWSLETTER #2
Dear reader,
We are happy to share with you the second edition of the Smart Mature Resilience newsletter. This newsletter is circulated quarterly with the latest project results, updates on project activities in cities and the latest news on critical infrastructure protection and city resilience.
SMR is a 3-year EU-funded interdisciplinary research project working for more resilient cities in Europe. For more information on the project's goals, methods and partners, please visit www.smr-project.eu.
Your Smart Mature Resilience Team
SMR CITIES TO WORK TOGETHER
The three core SMR pilot cities have matched up with their corresponding Tier 2 partner cities as part of the Circle of Sharing and Learning:
Donostia/San Sebastián / Bristol
In their role as peer-reviewers ('critical friends'), the Tier 2 cities will closely observe the process of tools testing in the pilot cities, evaluate the implementation, provide advice and learn in partnership with their pilot city.
SPOTLIGHT ON

SAN SEBASTIÁN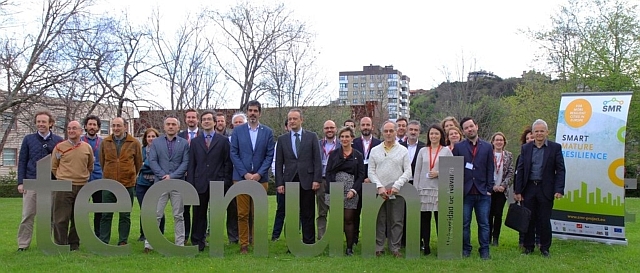 Pilot implementation of project tools was launched for partner city of Donostia/San Sebastián on 13 April 2016 at a kick-off workshop in the project coordinating institution of Tecnun. According to Diario de Noticias de Gipuzkoa, Mayor of Donostia, Eneko Goia opened the meeting, noting that Donostia faces "two risks associated with the global phenomenon of climate change that test the resilience of the city itself: these are the sea and the river." He further noted the importance of the event in Tecnun, as it represents the launch of the testing phase of pilot tools of the Smart Mature Resilience project.
TOOLS TESTING
Early stage pilot testing of the SMR tools has been ongoing since the first launch in February 2016 in Kristiansand (Norway) with a workshop focusing on the water and sewage security sector. This continued on 13 April in Donostia, where the main focus of the workshop dealt with communication flows in the energy and telecommunication security sector, particularly in emergency situations.
The next launch of tools testing will take place in Glasgow. The further four project cities (Bristol, Vejle, Rome and Riga) will closely observe the testing process, learn alongside the pilot cities and provide feedback on the project tools via webinars.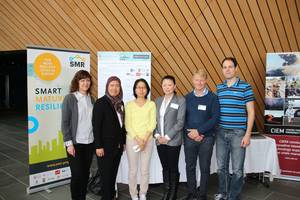 CONFERENCE
NEWS
SMR project partners attended the Kristiansand annual conference for emergency management, which gathered over 200 emergency stakeholders in the Agder region. Picture from left to right: Torbjørg Træland Meum, Jaziar Radianti, Mihoko Sakurai (UiA), Silje Solvang, Sigurd Paulsen (City of Kristiansand), Tim A. Majchrzak (UiA).
Image credit: Bjørn Erik Munkvold
CITY WORKSHOPS
Experts from all seven SMR cities met to exchange information and knowledge related to the risks associated to Climate Change and to provide material for the development of the Resilience Management guidelines in Bristol, UK from 25th to 28th January 2016 at the SMR project's second workshop, which focused on policies, indicators and barriers associated to Climate Change.
The third workshop of the SMR (Smart Mature Resilience) project in Rome (Italy) from 22nd to 25th February 2016 focused on policies, indicators and barriers associated to Social Dynamics.
RESEARCH
NEWS
Project scientists have recently produced the SMR City Framework (SCF): a theoretical perspective on city resilience in a municipality context based on contemporary theories in Resilience Engineering. Linköping University's recent Multidisciplinary Literature Synthesis also translates the SCF into a set of concrete actions for city managers.
Project researchers have also compiled systemic literature reviews of urban resilience in a global and EU context as well as surveying the current policies and challenges directly relevant to the SMR partner cities in the Survey Report on Worldwide Approaches and the Survey Report on EU-Sectoral Approaches.
CITIES WORKING TOGETHER
The Smart Mature Resilience project met in Vejle from 9-12 May 2016 to proceed with validation of the tools under development by the project: the maturity model, the systemic risk assessment questionnaire and the engagement tool.
The cities share their experience as part of the Circle of Sharing and Learning as to their progress through the various stages of resilience development by presenting their experiences and best practices in Vejle and also as part of 2-tier webinars.
Read more >
CALLS AND
OPPORTUNITIES
> 50th Hawaii International Conference on System Sciences (HICSS) 4-7 January 2016 Hawaii, USA
The Government and Disaster Resilience minitrack invites papers that deal with any aspect of the analysis, design, development, deployment, implementation, integration, operation, use or evaluation of ICT for discussing government roles for disaster resilience.
COMING SOON
The peer reviewing process by the cites of Bristol, Riga, Roma and Vejle will be led through specialised webinars for each city. The first webinar will be held in May 2016 between Kristiansand and Vejle and will focus on the Community Engagement Tool.
> WEBIST 23-25 April 2016: Rome, Italy
CIEM partners will represent SMR as part of the 12th International Conference on Web Information Systems and Technologies.
> Partnering up for greener cities: How public can work with private 26 April 2016: Bilbao, Spain
This free event for local governments, urban green infrastructure practitioners, researchers and private sector stakeholders will showcase examples from London, Strasbourg and the Parkstad-Limburg Region of how local governments can work with the private sector to make urban development in their cities greener.
> ECSCT 27-29 April 2016: Bilbao, Spain
SMR will be presented at the 8th European Conference on Sustainable Cities and Towns as part of a poster exhibition at the Innovation Market on Thursday 28 April.
> Adaptation Futures 2016 10-13 May 2016: Rotterdam, Netherlands
Project partners will give a presentation on the topic of "Co-creating climate adaptation and resilience building support tools with cities" at the International Climate Change Adaptation Conference. In cooperation with the European Commission and the Government of the Netherlands, ICLEI Europe is also organizing a high-level round table on "Nature-based solutions in cities" during which good examples and lessons learned on how to enhance cities' resilience through nature-based solutions will be explored.
> Open European Day at Bonn Resilient Cities 5 July 2016: Bonn, Germany
The EEA and ICLEI Europe will organize the 3rd Open European Day (OED), taking place on the 5th July, back-to-back with the Bonn Resilient Cities Conference.
> Resilient Cities 2016 6-8 July 2016: Bonn, Germany
The Annual Global Forum on Urban Resilience and Adaptation is the global platform for urban resilience and climate change adaptation, hosted every year in Bonn with more than 500 participants and over 30 partners annually.