Dear reader,
We are happy to share with you the second collaborative edition of the Smart Mature Resilience newsletter to present the work of European-funded projects working towards the shared objective of building resilience in Europe.
About Smart Mature Resilience
Smart Mature Resilience is a multi-disciplinary research project working for more resilient cities in Europe. Researchers and cities come together to enhance cities' capacity to resist, absorb and recover from the hazardous effects of climate change.

A Resilience Management Guideline and a set of practical tools are piloted in a core group of cities and shared with a wider group of cities, strengthening the nexus of Europe's resilient cities. Cooperation between researchers and cities functions in a cycle of development, pilot trials and evaluation. Researchers work with the project cities to co-create and pilot tools which help cities assess their resilience maturity, identify and implement resilience building policies and cooperate with stakeholders.
The participating cities of Donostia/San Sebastian, Glasgow, Kristiansand, Vejle, Riga, Bristol and Rome are at the heart of the Smart Mature Resilience project. As well as being active partners who contribute to creating the Resilience Management Guideline, they are also the testbeds where the project tools are tested.
For more information on the SMR project's goals, methods and partners, please visit www.smr-project.eu.
Your Smart Mature Resilience Team
Smart Mature Resilience Project:
Online Maturity Model launched!
The Smart Mature Resilience project has developed Resilience Maturity Model, which provides a common understanding of the resilience building process. The model is now available online as an interactive tool and is ready for you to use!
While using the Resilience Maturity Model, cities consider and evaluate their current status of resilience. The model then helps to identify the correct policies to implement in order for the city to evolve and move to the next maturity stage. The model can be used to understand how a city's resilience maturity journey should look.
The Resilience Maturity Model:
- can be used as part of strategic planning
- helps cities identify their level of resilience maturity
- helps cities to identify suitable policies to implement to develop resilience
- helps self-assessment of the effectiveness of resilience development
- helps cities prioritise resilience policy implementation
DARWIN Project:

Join the DARWIN Community of Practitioners

Are you a resilience expert, a critical infrastructure manager, a crisis and emergency response manager, first responder, a policy maker, a service provider or end-user working with critical infrastructures?
Come join the DARWIN Community of Practitioners.
DARWIN is a research and innovation project funded under the EU Horizon 2020 programme. The project is focused on improving responses to expected and unexpected crises during natural disasters (e.g. earthquakes) and man-made events (e.g. cyber-attacks).
To achieve this, DARWIN is developing resilience management guidelines aimed at a broad range of stakeholders, including practitioners and academics working within the crisis management and resilience domains. The guidelines will improve the ability of stakeholders to anticipate, monitor, respond, adapt, learn and evolve in order to operate more efficiently in the face of crises.
The DARWIN Community of Practitioners (DCoP) is an active community that brings together end-users in the fields of resilience, crisis management and emergency response, as well as healthcare and air traffic management. The DCoP currently has 74 members from 11 countries across Europe and beyond – and membership is constantly growing. The DCoP is key in ensuring that the resilience guidelines are relevant and user-friendly. The community offers DARWIN invaluable feedback on the guidelines and other DARWIN results. Now you can join the community and exchange views with the other members.
Watch our interviews with DARWIN partners and DCoP members on YouTube.
As a DCoP member, you will:
Get to exchange knowledge, insights, expertise and lessons learned for practitioners and researchers and promote international networking among leading resilience experts through a dedicated online platform, workshops, and face-to-face meetings;
Get to review and evaluate the resilience management guidelines and thus contribute to their development;
Receive access to innovative tools and training modules with the aim of protecting populations or critical services from policy to practice;
Receive access to information that enables rapid, effective, coordinated and flexible responses.
DCoP activities are voluntary and include workshops and exercises (normally lasting from a few hours up to two days), telephone interviews, focus groups interviews, surveys, webinars and tutorials. DARWIN will cover relevant travel and accommodation costs.
Contact and membership
If you would like to become a member of the DARWIN Community of Practitioners, please contact Rebecka Forsberg at: rebecka.forsberg@regionostergotland.se
Visit the project website
Follow us on Twitter
Find us on YouTube
Connect with us on LinkedIn
RESILENS Project: Realising European Resilience for Critical Infrastructure
As the RESILENS Project reaches its final stages, take a few minutes to discover more about the project and their recent updates in the recently launched fourth issue of their newsletter 'Through the lens'. Don't forget to sign up to their mailing list to ensure you receive the latest project updates and final outcomes as the project comes to a close.
Improver Project:
Register now for our next workshop on the 21st September!

Improver Project workshop
21 September at UCL, London

The IMPROVER project is developing a framework for operationalising resilience of critical infrastructures to improve their performance when exposed to crises and disasters. In order to assure the operationalisation of the framework, the project consortium will perform two pilot implementations through two scenario based cases studies: earthquake impact on a water network and critical damaging structure on a transportation infrastructure (caused by an accident). At this workshop, the developed framework and the pilot implementation plan will be presented.
This workshop aims to discuss the usability of the framework and the feasibility of the pilot implementations, in particular through consideration of success criteria and risk management systems. All interested stakeholders can attend. The workshop will be of particular relevance to operators, associated partners and researchers.
SMR invites cities to Thessaloniki workshop on strategic resilience planning
The SMR project has been working for just over two years to develop a suite of tools to help cities enhance their resilience. The cities have been working with researchers to develop five strategic support tools and discussion formats that the cities are using to identify and select policies they should implement to address weaknesses in their resilience management, to develop long-term resilience strategies as well as structures for cross-departmental cooperation outside of the usual 'silos'.
Now that the tools are being finalised, they will be shared with a wider group of cities at a Stakeholder Dialogue event in Thessaloniki, Greece. Three tools are already available to cities: the Resilience Maturity Model, Risk Systemicity Questionnaire and Resilience Engagement and Communication Tool. Two further tools: a System Dynamics Model and a collection of Resilience Policies will be completed before the event.
Registration for the Stakeholder Dialogue will open soon. For more information, please contact clara.grimes@iclei.org.
Smart Mature Resilience project: Hear from the SMR cities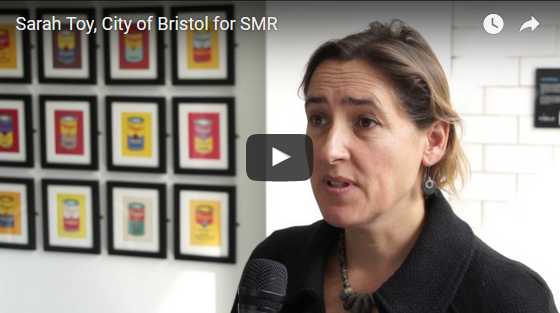 The seven SMR cities have shared their progress and goals for building more resilient communities for their citizens. Watch the videos and learn
how our cities have been progressing on the SMR website!
New group of cities joins SMR project
SMR has invited an additional group of cities to join the project. These cities will participate in two in-person events and three webinars to test the suite of SMR tools and will evaluate the SMR Resilience Management Guideline. The exchange activities will help to enhance their resilience planning and strategy development and provide them with new discussion formats that can help to involve diverse stakeholders in decisionmaking.
New Tier 3 cities:
City of Reykjavik, Iceland
City of Athens, Greece
Greater Manchester, United Kingdom
City of Thessaloniki, Greece
City of Malaga, Spain