Dear reader,
We are happy to share with you the third collaborative edition of the Resilience newsletter to present the work of European-funded projects working towards the shared objective of building resilience in Europe.

Save the Date: Critical Infrastructure Resilience Conference 2018
10 April 2018
Convent Garden 2 (REA Building)
Auditorium Nowotny, 25th floor
Place Rogier 16, Brussels
The Critical Infrastructure Resilience Conference 2018, which will showcase Europe's foremost research into resilience of critical infrastructures and resilience in cities, will take place on 10th April 2018. Six European-funded projects, Smart Mature Resilience, Resolute, RESILENS, IMPROVER, DARWIN and Smart Resilience are co-organising this event.
Smart Mature Resilience Project:

European and global cities join SMR movement towards city resilience

Kristiansand is on the Road to Resilience
Smart Mature Resilience core city of Kristiansand (Norway) suffered from devastating flooding in autumn 2017. Lessons from the floods and participating in SMR are putting the municipality of Kristiansand on the right track towards increased resilience to disasters and crises. Read our interview with the Mayor of Kristiansand, Harald Furre about how his city is building resilience to flooding through SMR.
Five tools for resilient cities
The SMR project has developed five tools, which support resilience-building in cities. Seven cities, four leading European research institutions, city network ICLEI and German standardization body DIN have co-created the Resilience Maturity Model, Risk Systemicity Questionnaire, Resilience Building Policies, Resilience Information Portal and City Resilience Dynamics tools to complete their city resilience management package. Handbooks are available to help users in applying the Resilience Maturity Model and Risk Systemicity Questionnaire.
Standardization
Three of the SMR tools have been developed into CEN Workshop Agreements (CWA). The first of these, City Resilience Development - Information Portal, is out for consultation on the CEN website and your input is welcome.
9 new cities join SMR Tier 3
Having started the project with seven cities, SMR was joined in November by a new group of "Tier 3" cities: the Greater Amman Municipality (Jordan), Malmö (Sweden), Münster (Germany), Rekjavik (Iceland), Greater Manchester (United Kingdom), Athens (Greece), Malaga (Spain), Stirling (United Kingdom) and Thessaloniki (Greece). Read more
Training period for Tier 4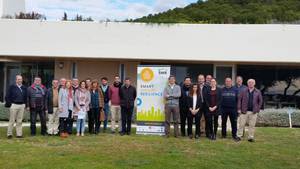 The Smart Mature Resilience team is currently active in visiting European and global cities to train cities on the use of the tool suite that supports the European Resilience Management Guideline. Targeted regional workshops in Malaga (Spain), Kristiansand (Norway), Berlin (Germany) and Athens (Greece) and a training session at the UN Habitat World Urban Forum in Kuala Lumpur, Malaysia will share the tools with a new pool of Tier 4 cities. The new cities will attend a high-level workshop as part of ICLEI Europe's Breakfast at Sustainability's series: Boosting Local Progress in City Resilience Development on 7th March 2018 in Brussels. Read more
Get involved

If you would like to join the SMR Tier 4, use the SMR tools or get involved in one of our events, please contact clara.grimes@iclei.org.
Visit the project website
Follow us on Twitter
Connect with us on LinkedIn
DARWIN Project


DARWIN Webinar - 'Resilience Management – From Theory to Practice: A Practical Adaption of Concept Cards'
On 4 December 2017, the DARWIN project held its latest webinar, 'Resilience Management – From Theory to Practice: A Practical Adaption of Concept Cards'. Project partners Valentina Cedrini from ENAV S.p.A, Italy, and Giuseppina Mandarino from ISS, Italy, shared their expert knowledge on how specific concept cards developed in DARWIN can be adapted and utilised within the healthcare and air traffic management (ATM) sectors. View their joint presentation here.
Read Giuseppina's blog examining the benefits of the DARWIN Resilience Management Guidelines (DRMG) from a healthcare perspective here. Valentina's blog discussing how the DRMG can be adapted to ATM is available here.
DARWIN Community of Practitioners (DCoP) – Upcoming Events
The next DCoP workshop will take place in Linköping, Sweden from 6 to 8 March 2018. The workshop will focus on experiments with different solutions associated with the DRMG, training, rapid-prototyping of concept cards and evaluation. While co-creating a resilient virtual city, the DCoP members will be asked to reflect on the usability of the Concept Cards within their own domain.
DARWIN will hold webinars for the DCoP in February, May and September 2018. The next webinar will take place on 27 February.
About the DCoP
The DARWIN Community of Practice (DCoP) is an active international community that brings together more than 140 end-users in the fields of resilience, crisis management and emergency response, as well as healthcare and air traffic management. More information on the DCoP and how to join is available here: h2020darwin.eu/community-of-practitioners/.
Visit the project website
Follow us on Twitter
Find us on YouTube
Connect with us on LinkedIn
Improver Project

On the 30th and the 31st of January, we held our first pilot implementation workshops in Barreiro, just outside of Lisbon, where we demonstrated the methodologies and tools which we have developed for the operationalisation of resilience to a water supply network in Portugal. Hosted by the Municipality of Barreiro, the event was an opportunity for those interested to see the application of our work first hand and to discuss the results with the consortium and the operators present.
A second pilot implementation workshop will be held in May in Budapest, where we will be looking at one of their main highway as a case study. The workshop will be open to all interested participant and free of charge.
More details will be available as we get closer to the event, but do keep an eye on our website: improverproject.eu or our LinkedIn page: www.linkedin.com/company/improver---eu-project/
RESILENS Project
At the beginning of the RESILENS project, we agreed upon a primary aim of developing a user-friendly, citizen-centric European Resilience Management Guideline (ERMG), in order to allow users to have a greater awareness of risk management and vulnerability reduction, which will, through its uptake and interactive qualities, lead to clear, coherent and effective crises and disaster resilience management for Critical Infrastructure, and in turn will contribute to more resilient and secure economic and societal systems.
To accompany the ERMG, we have produced a set of tools, an elearning hub and a supporting platform where all the resources can be accessed. All of these resources support a common approach to resilience management outlined in the diagram below.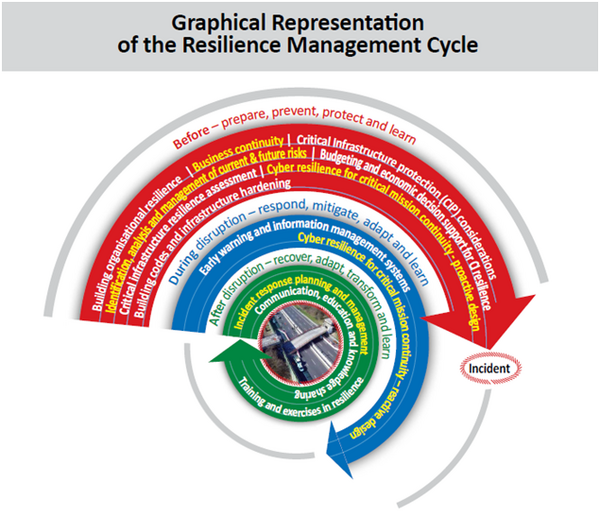 Before the incident – Prepare, Prevent, Protect and Learn
During the incident – Respond, Mitigate, Adapt and Learn
After the incident – Recover, Adapt, Transform and Learn
To accompany the ERMG, we have produced a Resilience Management Matrix and Audit Toolkit (ReMMAT), RESILENS Decision Support Platform (RES-DSP) and an eLearning Hub.
RES-DSP – The RES-DSP will host the RESILENS project outputs, the ERMG, ReMMAT and the eLearning Hub, this will be accessed via a single sign-on page to ensure ease of use and simplicity for the user.
At the end of ther project in April 2018 users will be able to access the following outputs via a single login to the Resilens Decision Support Platform:
ERMG - The ERMG provides CI organisations with tools for managing the resilience of their CIs. It provides the ability to deal with the range of central issues associated with CI resilience management in a generic and straightforward manner.
ReMMAT - The ReMMAT can be easily accessed by your internet browser, the tool has been created to assess your resilience level.
eLearning Hub – the eLearning platform was created to provide support to the concept of resilience, enhance and embed prior learning and provide as a link across the tools. The hub will also contain a repository for supporting data and resources associated with critical infrastructure not previously included in the ERMG.
In short, each of the outputs created within the project, has the sole aim of helping users to understand resilience, prepare for resilience and finally manage in the event a critical infrastructure disaster should occur. For further details, please visit our website at resilens.eu.
> Community of Users thematic days 5-9 March 2018: Brussels, Belgium
> Critical Infrastructure Resilience Conference 10 April 2018: Brussels, Belgium
> Open European Day at Bonn Resilient Cities 25 April 2018: Bonn, Germany